We left Sweden a sunny day in the end of August 2012. I spent the last weekend in the mountains in Lapland where I did see the first snow of the year. I did not know anything about the country I was going to spend at least one year in. I packed my bags, went off to Kastrup and BAAAM, the longest adventure of my life had just begun.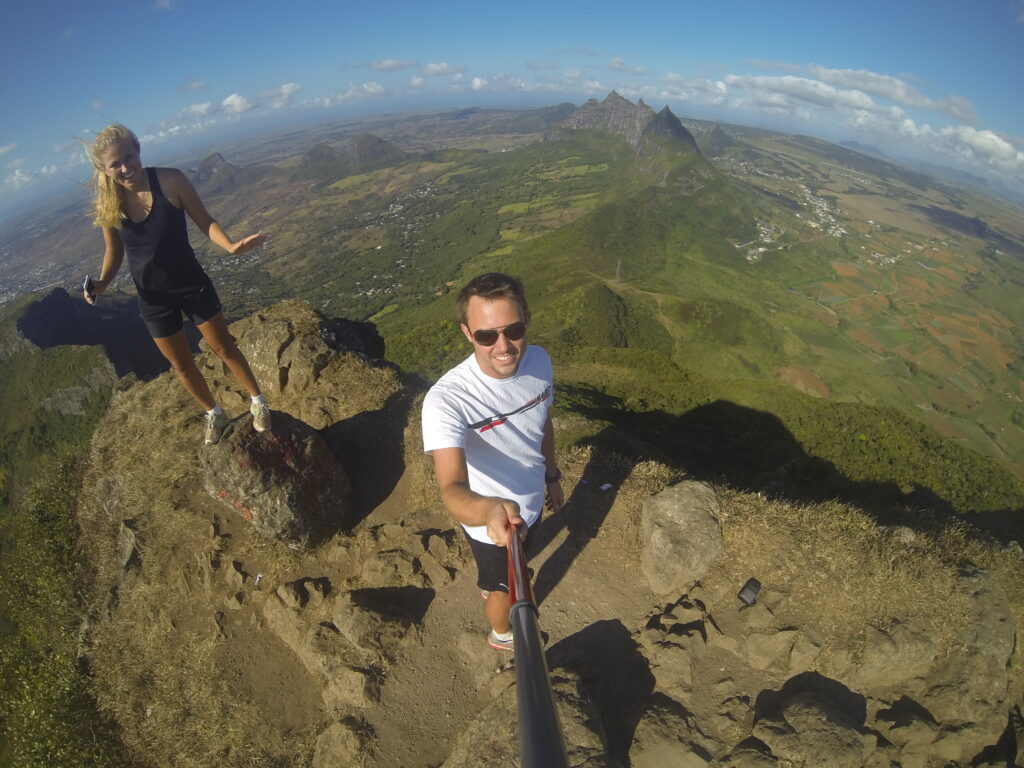 I have received so many questions about the land in the middle of the Indian Ocean, that I now finally will take some time and actually write about My Mauritius.
We arrived early morning. The airport is located in the south and the air was humid and warm. We spent about one hour in the immigration due to all papers for a work permit, then one hour in a car heading against Grand Bay, the new hometown. As the mountain-girl I am.. My first thought about the island was about the wonderful views. I had no idea that there would be that amazing mountains showing up. The highest mountain is about 900m AMSL but it feels so much higher when the sea is actually just next to it. The mountains will also be the first thing I would like to recommend. Go for a hike up on Le Pouce, it will take about three hours in total, depending on the start point and walking conditions – but the views you get from there, unbeatable.
Beaches
All of Mauritius has lagoons around it and it is a stunningly beautiful country. Its green-blue-turquoise clear waters combined with the wind in the autumn makes it to my paradise on earth. Classic question "Are the beaches really like in the photos"? And yes, they are. Of course there are some people walking around, but there is so much space and there are huge beaches. If you take a speed boat and go out to one of the small islands, you will be in a movie.
Diving
Diving is for me one of the best ways to get relaxed. I'm not allowed to be stressed deep under the surface, and I'm not allowed to move too much. I have to think about the breathing, look around me and just view the incredible landscape that is there. Being 30 meters under the surface gives me the same feeling that I get from the mountains at home. Loneliness and adventure in one. I did my best dives in the north, close to Grand Bay, and the best time for diving was a warm summer day in Jan-Feb when all the colourful fishes showed up at the same time. If you are interested in diving, read about diving in Mauritius here. (Swedish edition only)
Kitesurfing
Sorry, I had to add this into the article. We have picked miles on the water, and I've enjoyed almost every second. (Not true, always angry after when I have not been eating enough food during the day…) As a lot of people know, I'm totally addicted to kite surfing – I wrote a looong article about kite surfing in Mauritius, it can be found here. (Swedish) If you go to Mauritius to kitesurf you should go there sometime during the months of July to October. Many kite schools say that it's windy all year around – and yes, you can get a dream day even in January, when the water is the same temperature as a warm bath and the sun is shining the most, when the kite tourists are far from the beaches, and you are almost alone in the water – and the life is really good, but one should not go to Mauritius in January and hope for too much wind. Go instead during the Swedish summer/fall, and it will be blowing almost every day, especially in Le Morne.
Grand Bassin
On thing that you are not allowed to miss if you go to Mauritius is the area around Grand Bassin. Take one day by car, go into the rum-factory, eat at a restaurant with a nice view, visit some viewpoints and just relax. You can also see the seven colored earth up there (but I do not recommend that as a thing that has to be seen). I took all my friends up here, different roads, but the same area.
Dolphins
Dolphins are comnig into the beach about every morning, and stay for around two hours. We were lucky to see dolphins both while diving and while kitesurfing.
Deep sea fishing
All in, if you go fishing, you rather go big deep sea fishing. We went on the boat around 7 am in the morning. Two hours later were we far far away from the mainland. The boat was driving all the time and I was so sea sick that it was crazy. I said one time and never again, ended up on the same boat five weeks later. Dorados and tunas, a lot of tunas is what we managed to catch.
Caselas zipline With no expectations whatsoever did we buy a full day ziplining. This included a walk in the jungle, we did swim in a pond and next to a waterfall. Full lunch was included, BBQ and drinks.After lunch did we swim through a canyon followed by a slide down a twin zip line of 165 meters over the canyon. This is recommended as a full day trip, the lunch is great and the pond is noce to hang out next to.
Mangrove paddling
We slid into a sea kayak and discovered the beauty of the lagoon for one day. We saw a lot of small islands, surrounding of Mauritius mainland. We stayed on one of the small islands for lunch and then we kept paddling. This is such a nice paddle tour, but you have to remember to bring sunscreen and something to cover your self with. It was a bit funny, because there was a lot of fishes jumping, and one fish jumped straight into one boat.
Prices
It is as expensive as you make it but definitely more expensive than in Asia. It's cheap if you can find the small restaurants and eat food from the people that serve food from their bikes (I did a lot.. and I survived ). I manage to put down the car rental prices to 13 000 rupies a month, I don't know if that is good or bad. I think it was okay.
My Mauritius
If I miss Mauritius, yes, I miss it. It was my home for about 2 years, and I have a lot of friends there and a lot of good memories. One day Mauritius, one day we will meet again.